For those who do not know, for over five years, I have a computer as a car radio to listen to music and do other things. If I fall from the clouds at this news, before I suggest you look at the article that discusses the construction of my carputer I call "NeoBox" inside my old Fiat Brava in 1994 and, subsequently, the transfer the same in my new Lancia Musa in 1995.
In fact from that article a few things had changed. He had temporarily replaced Windows 98 with Linux for reasons of stability while losing the ability to use the radio, GPS and more. Additionally, using Amarok as the interface for music, I had earned it the ability to search specific songs, but I lost the convenient interface with buttons of the huge software developed by me.
Subsequently, tempted by the stability of Windows XP, have returned successfully to my software under Windows XP. But there was to say that, for example, the radio card, removed in the transition to Linux, had never been reinstated and the GPS was then left unused for lack of software and updated maps for the PC.
E 'at this point that we come in there to tell you briefly about a leap forward in the use of my computer from auto. Long abandoned the hope of change and broaden my management software for reasons of time, I recently decided to try one of the software available on the market.
And it is indeed about a month that I was testing the 2.0 version of software for CarPC seemed well done. Sunday saw the release of version 3.0, I downloaded and I decided to buy it.
The software in question is called Centrafuse and it cost me to change them € 54.00 but is worth it.
In the video below and see the use that I do as a MP3 player which allows not only to listen, of course my collection of MP3 music but also search for the title, author, album and so on.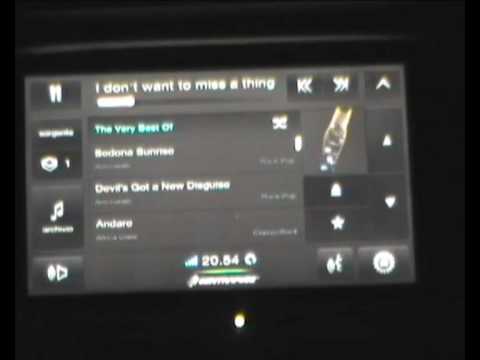 It allows me to see the videos, the images on your PC and what is fantastic, as you plug in my iPhone and the headset allows me to use the speakerphone with a microphone connected to the PC sound card automatically lowering the sound of music. Also successfully imported the entire list of contacts already on my iPhone.
Allows me to finally listen to the radio in the car but not all. Flipped by the various possibilities of this software, I connected my PC to the Creative Live Motion spare and so now I also drive a rear chamber that helps me in parking lots.
Moreover, as shown in the video, since I can move the motorized webcam at will to reach the hidden points back.
Lack the speech GPS navigator but, for this argument, I invite you to another article on this blog.