On April 1, 2012 I participated for the second time in this beautiful sport event in San Benedetto. But unfortunately, while two years ago I ran the 21Km this year I could only 10Km due to lack of training.
This is the path anyway, inverse with respect to that of two years ago
I have traveled with a speed always high enough and a final average of 5:17 per Km
and obviously with a heart rate too but always too high.
What's new in this race, headed a wonderful idea, a camera with which I took all my race which can be seen in its entirety, below. Of course, not being a, excuse the pun, seeded, from a certain point on, I take the last positions but we last we deserve a little 'satisfaction.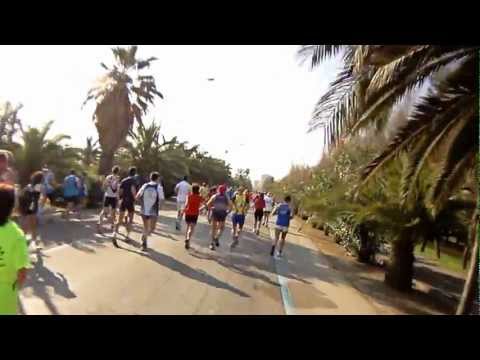 Regarding the organization of the race everything perfect even if I have to point out two minor flaws always proposing for next year.
The first is that the last place where the runners had to go 10Km on the one hand and those who continued 21Km from another, it was not clear where to go because, as you can see from my video at 56:40 min , you svoltavi quickly and you were a sign that said, left "Arrival" and right "21Km" and you had to understand, in a very short time, with the oxygen deficit of 10Km on the shoulders that was your Arrival. Many have turned right then having to go back.
The second small tug ears for the organizers was the Pasta Party at the end. The pasta was really inedible. Moreover a simple pasta sauce. We could do more, especially in a seaside resort, with all the fish around.
Good hand and well organized the refreshments at the end of the race with good stuff and especially, to serve the students of the local hotel school in biachi gloves. View the crowd to the food of other similar events I was a bit 'puzzled about the presence of "waiters" but instead he was a winning crowd with reduced practically to zero. Bravi!
Next year 21Km? We'll see, for now, next Sunday we expect Casette d'Ete which facili already in 2009 .
This article has been viewed 104 time