Sunday, March 25, 2012 I participated for the second time , the marathon Adriatic Martinsicuro although, of course, I did not do the 42Km 10Km but rather, to be exact 11.3km.
This below is my path and my performance
with a low speed but, personally, highly respected
even taking into account the physical state is not exactly perfect especially highlighted by the "red line" at the end of 188 bpm on arrival.
I also want to say a few words to the organization. In previous years there were several problems with the wrong routes and mileages much less than those stated.
This year though I noticed that an organization can easily define perfect. The paths for 11Km, 21Km and the marathon were perfectly clear and well marked with signs visible. Even in the most intricate turning point, a huge sign hanging from a crane and floating above the road indicated the three different routes.
The same feeling I had for the final refreshment, where usually there is always plenty of crowds to grab the classic slices of bread with olive oil and sweet and this year, thanks extending along almost the entire rest of the awning, there was virtually no lines. One then praise to the organizers.
Here below the arrival, alone, your Bruni
while here two steps with your man, taken at the start and the transition to the second Km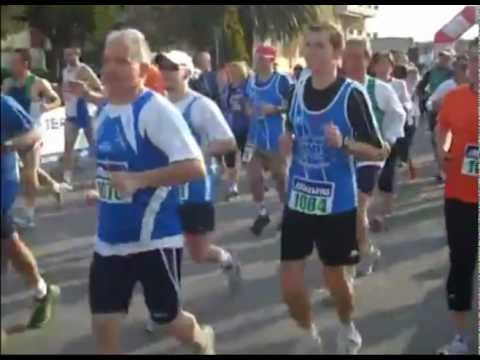 And finally, here is my certificate of attendance to the Adriatic Marathon 2012.
This article has been viewed 71 time