Do you like me want to buy an electronic book reader? Do you like me a Nintendo DS? Then you are already in place, it can turn your Nintendo DS / DSi / XL in a fantastic eBook reader. Let's see how.
The only prerequisite is that your Nintendo is homebrewed .
In this first part we will see what to use, how to convert and, ultimately, how to read a PDF file containing text. To clarify, the PDF must not contain images or if the PDF contains a scan of a document that has been done without an OCR or if the PDF contains images are waiting for the second part of this guide.
Obviously a text document lends itself to the maximum display on our Nintendo eBook reader because the reader can scale the text and fragment optimally for viewing on the patterns of our favorite DS.
The result we want to achieve I think speaks for itself.
First we download the program to read ebooks on the Nintendo DS. The program is called dslibris and is located on sourceforge.net.
Download it, unzip it and copy everything in your microSD trusted so dall'R4 be found. In particular, copied to the root of your microSD dslibris.nds the file, the font folder and the folder book.
In this folder will be copied to our books. This folder already contains a book or manual of the program.
Dslibris supports file. XHT and files. ePub eBook that is the standard format. And the last file in the following example we will use to convert a so. In a pdf. EPub. It would be possible to use the. XHT, which is more difficult to get from one. Pdf format and also available from good. Is better when converted to pdf. EPub.
Let's see how to convert a PDF to ePub. Specifically, we download the free copy of The Divine Comedy of Dante Alighieri.
To convert it to download and install the excellent Calibre , a comprehensive program for the management of our electronic books, as well as manage, convert our books from one format to another.
We follow the video below to understand how to convert the PDF in EPUB format.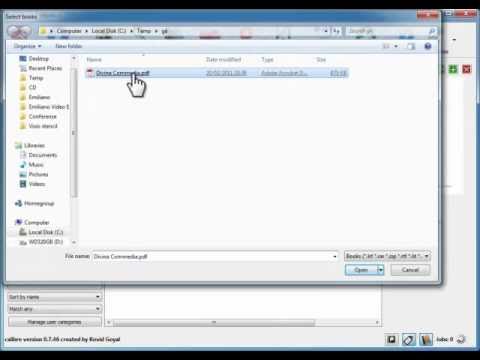 At this point you just have to copy the file. EPub book made the microSD folder of our Nintendo DS and you're done, we can read in peace our copy of The Divine Comedy on our favorite console.
This article has been viewed 1,773 time
4 Responses to "Use a Nintendo DS for eBooks in text format"