Ok, as I mentioned obliquely in a high post, I want a green screen and saw that on e-bay Italy I could not find and spend 50 euros shipment from the United States did not take me, I'll build.
First is a GreenScreen.
The GreenScreen is in itself a technique of video production. Pre or post production, you delete a color, instead of that color you put something else.
You know the guy that the weather moves across the map with expectations. He is actually confronted with a background in color, usually green or blue, but before sending the images in the ether, the tools of video production remove that color and replace it with the image of the map.
The effect is precisely what the presenter in front of the map
I think that finding a green cloth is not a big problem. Just a moment free I'm going to one of the many markets in the area to see if my optimism about it has paid off.
But what interests me now is the structure on which to mount the green screen. Not having the possibility of placing the cloth permanently to some wall, I have to build something mobile and folding on request.
I thought to organize wood. Let's see what I did before. Here's the equipment purchased today by Obi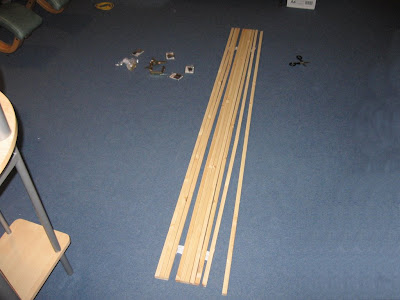 I took strips of wood 17 × 17mm square and two meters high, in addition to metal plates and hinges to fold the structure.
Since the 2 × 2 square feet seems excessive to me, I cut in half some boards to build sections one meter by two.
Finally, the construction of this facility has allowed me to use one of those tools bought and never used. The manufacturer of the frame.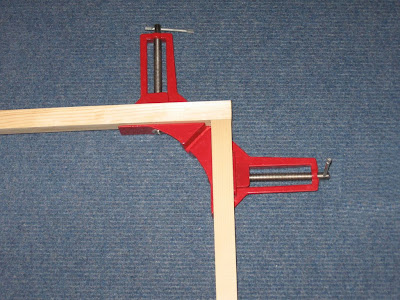 Once costruitene two, I joined with hinges purchased. Here below the result standing.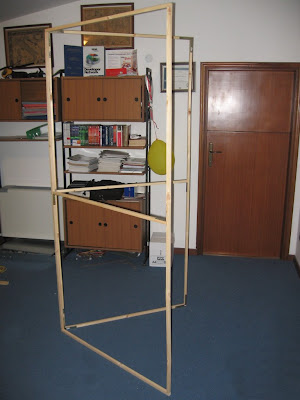 Now remains for me to understand how to add an additional section is also folded structure created so far and find the blessed green screen.
Beware of other photos on Picasa
See you later.
This article has been viewed 593 times
5 Responses to "EmiGreenScreen - How to build a GreenScreen"