We're going to bend the other two sides of RoundBox.
First, to fold these sides is necessary to remove, with a jigsaw, sections of the two sides already folded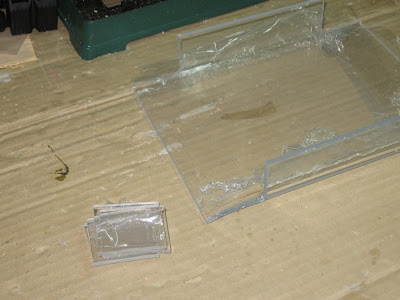 We realize, after having made a mistake, but as you know, this is the first time I try to create a curved box that mistakes are allowed, indeed, this is precisely the purpose of this exercise, learn from mistakes.
Cominque, removed the four sections, we are now ready to fold the remaining two sides.
I had promised myself, and I do now, to explain how I folded the first two sides and how I'm going to fold these two.
First you need to protect the parts of the plexiglass that will remain rigid and therefore not affected by heating with something. I used pieces of plywood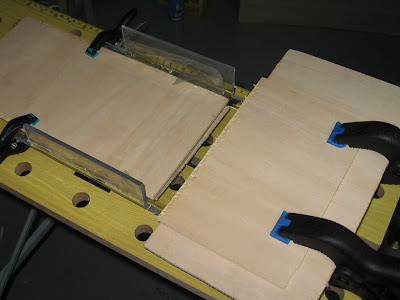 At this point I can place the object by placing something on the side to bend so that the folding takes place down so that, once heated section, they are automatically bent by the force of gravity.
As is evident, however, I locked the side to bend with a tripod. This is to avoid that during the heating phase, a heated section first and the other begins to bend without that other areas are adequately heated, causing a rupture of the plexiglass.
The stand is removed once you are sure that all areas, especially the edges, where it is easier to break, are sufficiently soft to be bent without "tearing." Once this happens, it takes away the tripod and you act gravity.
The result, once folded the last two sides and bring the heights of the four sides of the same size is it.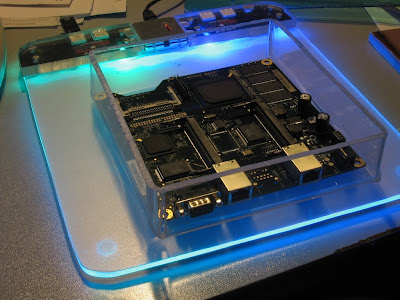 And, in this photo, you can see the problem mentioned above. Areas do not map neatly folded today with those bent yesterday.
From measurements made, the next time I'll try to leave about 5mm in height from the sections cut above to remove that thickness as shown in the picture below
The original plates in gray, green, section of 16mm plywood left by the warmth of the heater, in red the final result.
As seen from the innermost of the exposed area, the plate bends leaving 5mm thick we're going to cover, leaving just 5mm in height from the sections cut.
This article has been viewed 124 times